Goettle Dedicates BAUER Rig to Late Employee
Feb 17, 2020
ADSC-IAFD member Richard Goettle, Inc. of Cincinnati, Ohio paid a unique tribute to a recently deceased member of its team by dedicating its new BAUER Drilling Rig to his memory.
Goettle's Joe "Goob" Gruber of West Harrison, Indiana was tragically killed in a motorcycle accident on August 11 at the young age of 40. He had dedicated 19 years to Goettle, most recently serving as Lead Mechanic. He also served as an equipment expert for many years.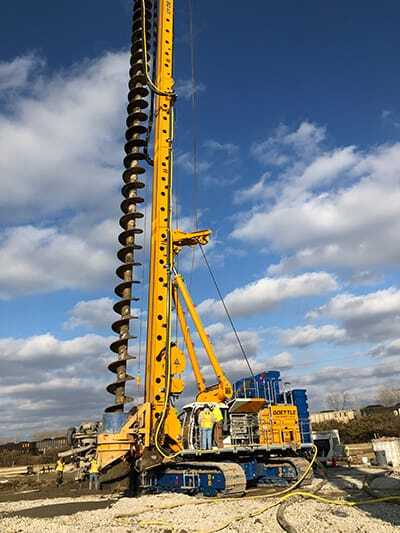 Goettle, a long-time ECA customer, purchased the BAUER BG 45 from the company's Pittsburgh, Pa. branch in September of 2019. ECA's Director of BAUER Product Sales & Service Gordian Ulrich worked closely with Joe and Brent Burman to spec out the rig. Sadly, Joe never got to take delivery of the rig he had worked so hard to bring to fruition.
Goettle wanted to memorialize the contributions of a man that not only dedicated an entire career to keeping its equipment running at peak capacity, but also lead the charge to design, spec, and acquire its newest BAUER rig. The contractor determined that the BG 45 would be named "Mighty Joe." The rig was aptly named considering Joe's larger than life personality and the fact that the rig would be Goettle's largest.
The BG 45 was branded to memorialize Gruber. Several members of the Goettle team collaborated on the name and logo design. The name "Mighty Joe" is displayed prominently in bold white letters against the blue counterweight of the BG 45 with Joe's signature from the rig's purchase order inset on the bottom right.
Joe earned Ulrich's respect during an ECA-Goettle trip to Germany in 2015 when Goettle was conducting pre-planning to rent a BAUER BG 39 Drilling Rig. Ulrich is highly regarded by foundation contractors for his technical aptitude with BAUER equipment.
"I have worked all over the world and met many lead mechanics and equipment guys with different contractors, but Joe Gruber set the benchmark with his passion and commitment," says Ulrich. "He and Brent Burman always took on the most challenging jobs and turned them into a great success for Goettle due to an outstanding understanding of the equipment and its application, thorough pre-planning, and Brent's second to none ability to form the perfect team for every job. They simply 'Made Shit Happen' as their famous hard hat sticker says."
Gordian had been onsite for the startup service of the BG 45 and was there when Goettle assigned "Mighty Joe" to its first project in Columbus, Ohio. The drilling of 4-foot-diameter secant piles up to 90 feet long took place under dreary skies for most of the first day. By late afternoon the crew was relishing the BG 45's successful installation of the first production piles. Suddenly the clouds drifted away and sunlight spread across the jobsite. The smiles were contagious as everyone arrived at the conclusion that "Mighty Joe" was impressed with the first day of production.
###