Unlocking the Secrets of CFA Piles: ECA's CFA Academy Training Course
Aug 18, 2023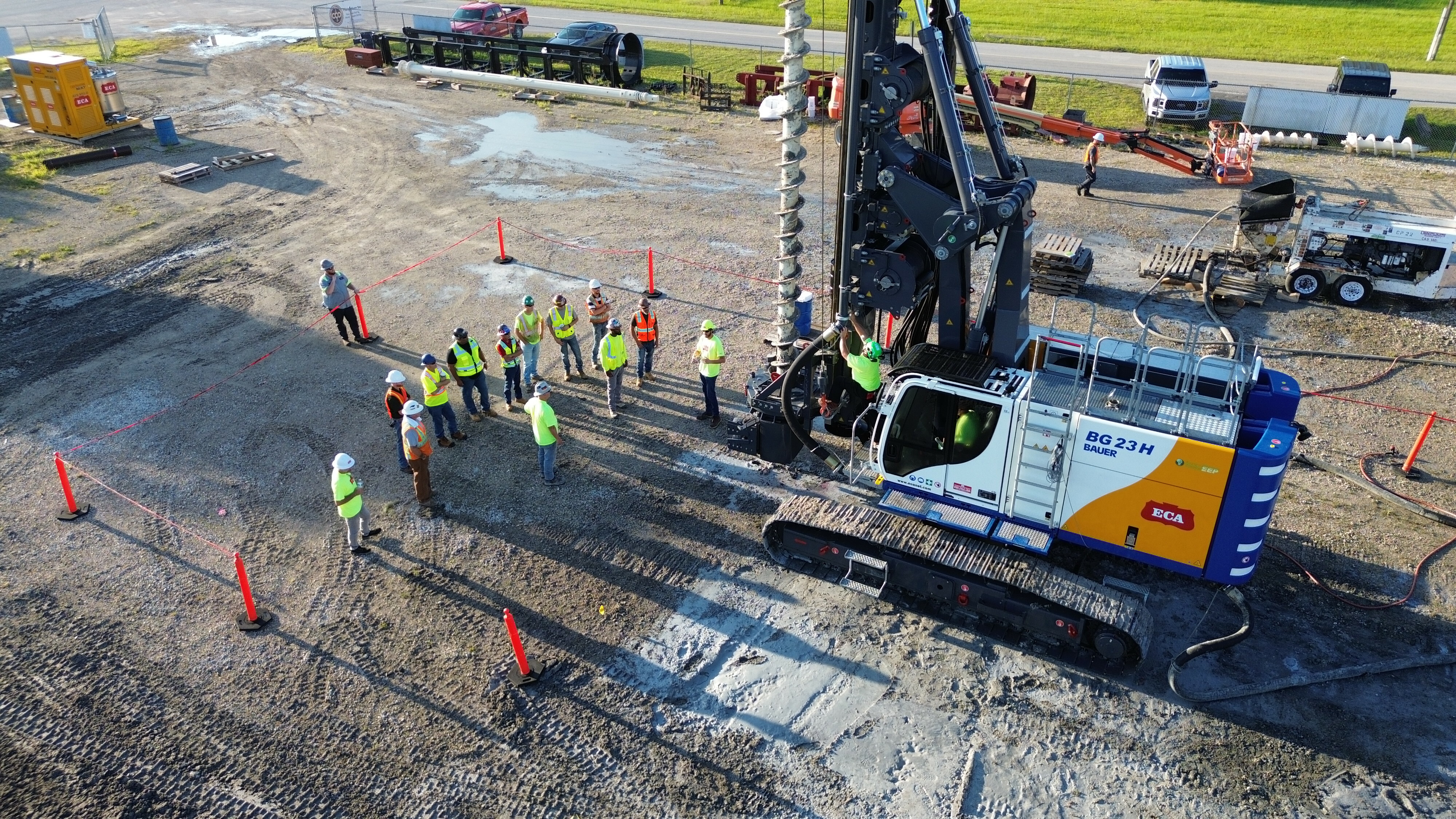 If you've ever wondered about the intricacies of drilling a CFA (Continuous Flight Auger) pile and delving into the underlying theory, Equipment Corporation of America's recent CFA Academy training course was created for that purpose. Held at ECA's training facility in Jacksonville, Florida, from August 2nd to 4th, this 2.5-day training program equipped almost 20 participants (operators, owners and fleet managers) with a deep understanding of CFA pile drilling techniques and theory.
Bridging the gap between theory and practice, this first-of-its-kind training course in the United States offered theoretical classroom training reinforced with hands-on experience in one of ECA's BAUER BG 23H rigs.
"Teaching CFA in a classroom is certainly fine and useful but teaching CFA in the field where the customer can operate a rig and pump grout like on a real project made this experience unique," said Gordian Ulrich, ECA Vice President of Bauer Product Sales & Service. "At ECA we believe in providing our industry the most advanced technology and products. However, it is still humans who operate these rigs and they need to be trained to the highest possible level."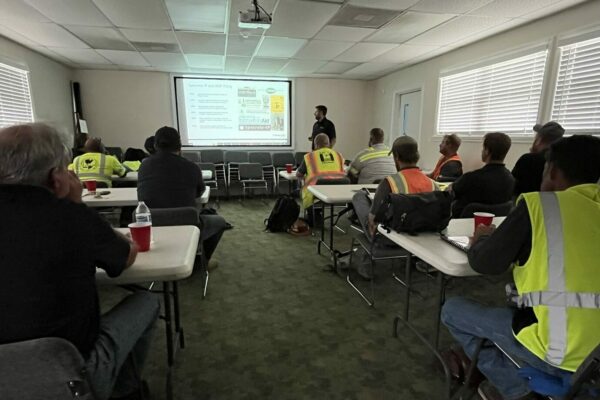 Theoretical Training: Laying the Foundation
The training course contained an exploration of the theory behind CFA pile drilling, led by ECA's Bauer Service Team. Participants dove deep into topics such as CFA safety protocols, the distinctive features of a CFA rig, the differences between a CFA pile, a drilled shaft, a displacement pile, and a micropile.
CFA Academy participants had the unique opportunity to understand the nuances of drilling a CFA pile correctly. From pitch and filling rate to rotation speeds, grout consumption, and withdrawal rates, participants learned the critical factors that contribute to a successful drilling process. Augers, starter bits, and auger cleaners were explored in detail, giving attendees insight into the best tooling for effective CFA pile drilling. Additionally, ECA was joined by Mickey Westbrook from Specrete, who presented on grout mix designs, providing attendees with valuable knowledge about creating optimal grout mixtures. Stephen Crawford from Applied Foundation Testing also presented on load testing methods, instrumentation and integrity testing methods for CFA piles.
"The CFA Academy began with a request from customers to provide best practice methods for the installation of Continuous Flight Auger piles," said Joe Kinworthy, ECA's Bauer Product Support Manager. We added other beneficial content like safety, grout mix design, and load testing to give them an thorough look at the process."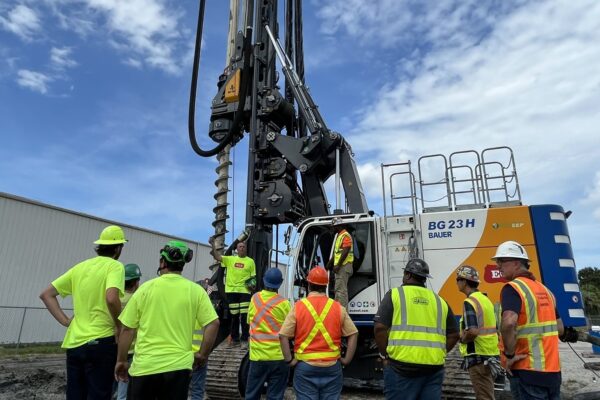 Practical Training: Turning Knowledge into Expertise
While theory provides the foundation, practical training brings it all to life. The course offered hands-on experience in drilling CFA piles using cutting-edge technology, specifically the BAUER assistant systems on the BG 23H rig. Participants gained firsthand experience and a comprehensive understanding of the rig's operation, including the onboard BAUER B-Tronic system, a vital component for successful drilling. Quality assurance and quality control procedures, including lab work, mix design, field testing and hands-on experience with the Olin 5 140CA concrete pump, were covered. Along with an in-depth look at the clean-out process and its importance in maintaining the integrity of CFA piles, the CFA Academy scholars were given a holistic perspective on the entire process.
"It can be overwhelming just not knowing, and then how simple it can be when you do, in fact, know and understand the machine and the components and how they all work hand in hand with the application," said Jason Martinelli, ECA Field Specialist and Senior Rig Operator. "I got a lot of positive feedback on how well the course was structured and how it didn't seem like just another training, it was more of a jobsite."
With its pioneering approach and comprehensive curriculum, ECA's CFA Academy is set to pave the way for safer, more efficient, and more knowledgeable drillers.
We want to hear from you! What training courses are you interested in for yourself or your team? What rigs or what applications are you interested in?